Complete Guide to design Business Cards Online Free
This guide will help you to create your own business cards online.
Before we start, I would like to tell you that we are going to use a third-party website ( free ) to create business cards online.
Try to use a desktop/laptop rather than a phone for easy designing.
Step by Step Process to Make / Design Business Cards Online
Use the business card template
We have created a template in size 85mm x 55mm with 3mm bleed, making the size to 91mm x61mm.
You simply need to click this link and it will open the template in new tab.
It will take you to this page in a new tab.
Login to Canva / Signup
Click on the button " Use template". It will open a popup window to Signup or login to your existing Canva account.
You can signup using Gmail/Facebook or your email address. It's free to join and will take less than 30 seconds to do so.
Check your email inbox & spam folder to confirm your email before start using.
Login to your account, if you already have an account with Canva.
This guide is created using the canva free account and you do not need buy pro version to create the business cards online.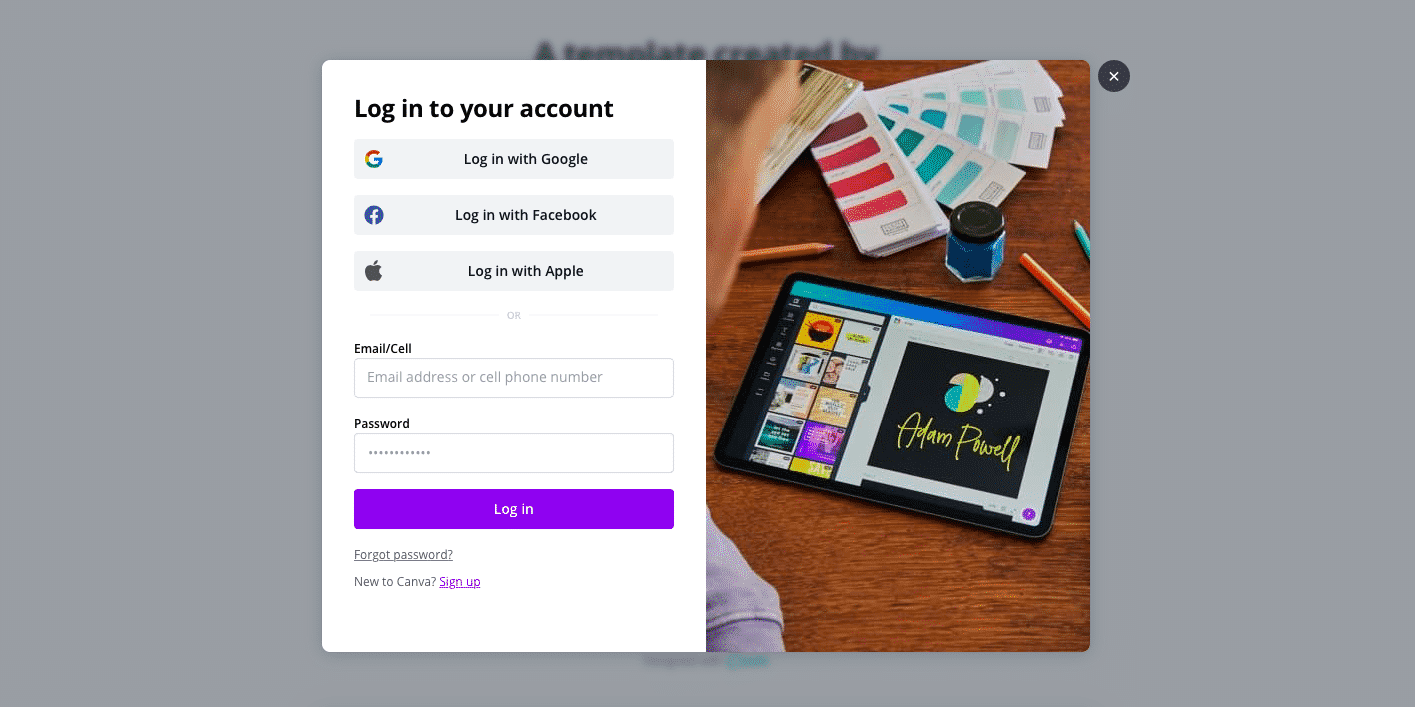 Edit the template
Once logged in, It will take you to the template to edit the design.
Setting up the design Space
The size of template is 91mm x 61mm in which 3mm is bleed around. So we need to make it visible to keep the all text etc inside this bleed.
These are the lines from where the cards will be trimmed after printing. So it is advisable to keep all important text/logos etc atleast 2-3 mm inside the bleed line.
If you have any background / Image that will go to edges, please extend that into the bleed area so that when it is trimmed after print, it will be trimmed on edge and no whiteline will appear in finished product.
Go to File menu and click on show guide & show rulers. ( Image below )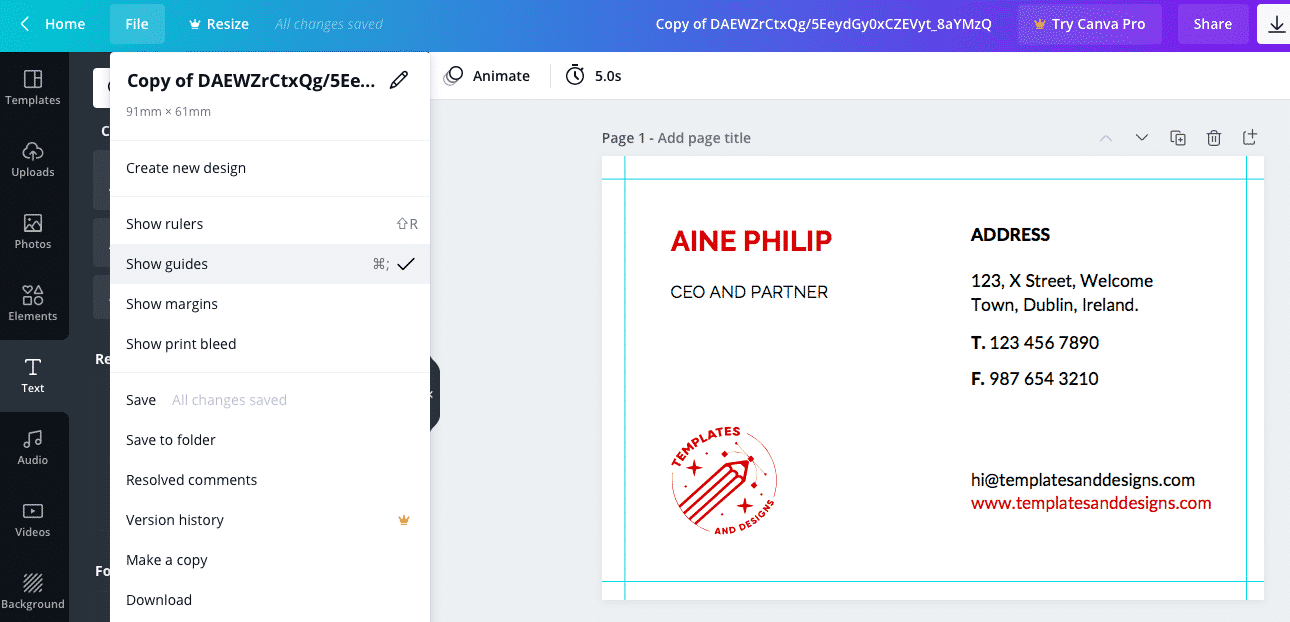 Edit/Add Text
Click on any text field to edit that. When you click on the text, it will show you options to change size, font and other aspects of the text.
You can simply drag the text box to reposition it anywhere in the template.
To add new text, click on the Text in left panel and it will allow to add you heading/subheading or text. Once added, then you can change font, size, colour and position of it.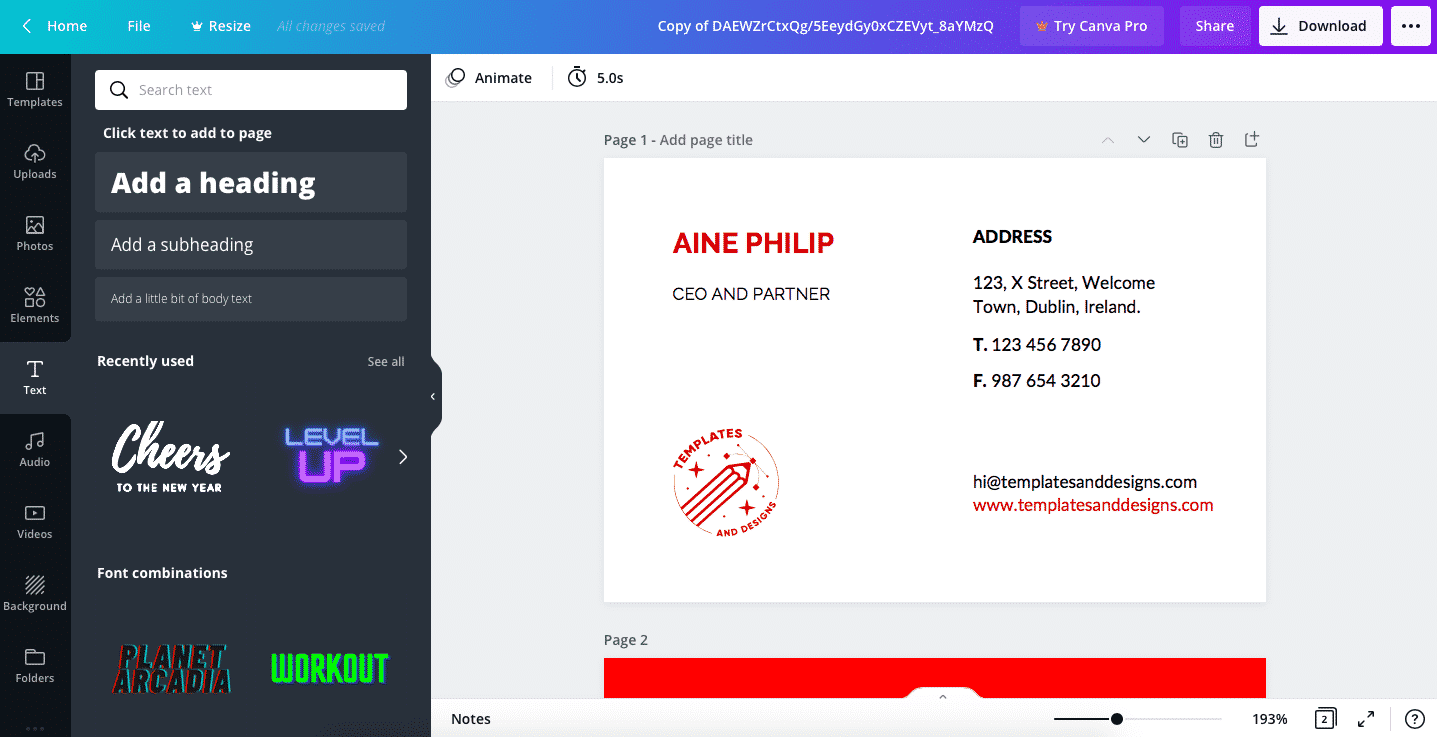 Edit Logo/Image
You can upload your logo/ Image here in canva. You simply need to go to left panel and Uploads.
Now you can upload image/logo from your laptop/computer. It may take few seconds to upload depending upon the size of file & internet speed.
Once logo is uploaded, simply drag that to the template space and then you can resize it and place anywhere you want.
Edit /Change Background colour
You can change the background colour by click on background in left panel.
Simply pick any colour or upload any image in the background.
Download the PDF file
Once you are done with design changes or created your own design, now you need to download the print ready pdf file.
This file will be good enough for any printer to use.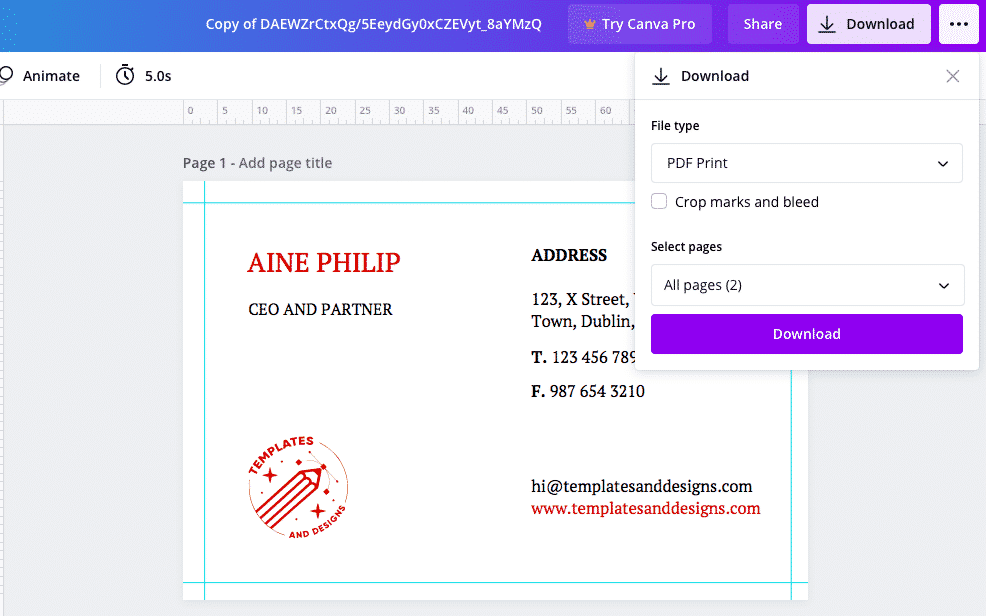 Click on the download button in the top right corner.
Select file type as print pdf type.
Do not select crop marks and bleed option.
Click download and it will download the high quality pdf file to your system which you can use to print.  Like this
This way you will be able to design and download the business cards for your printing purposes.
———————
Get 500 Business cards, Full coloured both sides, matt laminated for €20 ( Ex VAT and delivery )
——————–