Print Marketing for Small Irish Businesses: It may be tempting to believe that traditional print marketing is no longer important at a time when digital marketing is king, but this is not completely true. Print marketing is still a vital tool for Irish small businesses seeking to broaden their consumer base, leave a lasting impression, and foster a sense of loyalty.
Despite the undeniable significance of digital channels, print marketing continues to offer many advantages that make it a priceless resource in the current marketing environment.
In this post, we'll examine the factors that make print marketing important for Irish small businesses in the digital era and how you can use it to strengthen your marketing plan.
Here are the top 5 reasons why Print Marketing for small businesses still matters in the Digital Age:
Enhanced credibility and trustworthiness

Print marketing materials can help your Irish small business stand out in the current digital environment when information is widely available and frequently ephemeral. You may build a solid brand reputation and inspire trust in your goods or services among your target market by investing in high-quality print materials.
Value perceived: Because they take more time, effort, and resources to produce than digital content, printed items can have a higher perceived worth than digital formats.
Tangible proof of existence: Having physical marketing materials on hand can act as concrete evidence of your company's existence and stability in an online environment where online-only firms are becoming more prevalent. This helps bolster confidence in your products by assuring potential clients that your company is reliable and reputable.
Authority and expertise: Print marketing materials can be used to demonstrate your company's authority and competence in your sector. You may establish your brand as an authority in your industry and get more potential customers' confidence and credibility by offering educational, thoroughly researched, and intelligently made material.
Targeted reach and increased engagement
While digital marketing allows you to reach a vast audience with relative ease, print marketing enables you to connect with your target audience on a more personal and targeted level. By distributing print materials in specific locations or through targeted mail campaigns, you can ensure that your message reaches the individuals most likely to be interested in your products or services. 
Precise targeting: Print marketing materials can be distributed in carefully selected locations or through targeted direct mail campaigns, ensuring your message reaches the individuals most likely to be interested in your products or services. This targeted approach lets you focus your marketing efforts on the most relevant audience segments, increasing the likelihood of generating leads and conversions.
Localized marketing: For Irish small businesses, print marketing can be particularly effective in reaching local customers and building a strong presence in your community. 
Undistracted engagement: In a digital world where audiences are continually bombarded with notifications and distractions, print materials offer a respite from the noise. When engaging with a printed piece, your audience is more likely to give their full attention to your message, resulting in increased comprehension and retention of your content.
Personalization and segmentation: Print marketing allows you to customise your messaging and design to specific audience segments, making it a more personalized and relevant experience for your potential customers. 
Emotional connection: Print media's tactile aspect can elicit an emotional reaction that is challenging to accomplish through digital platforms. You may design marketing materials that engage the sensations and emotions of your target audience and produce a memorable, potent marketing experience.
Tangibility and longevity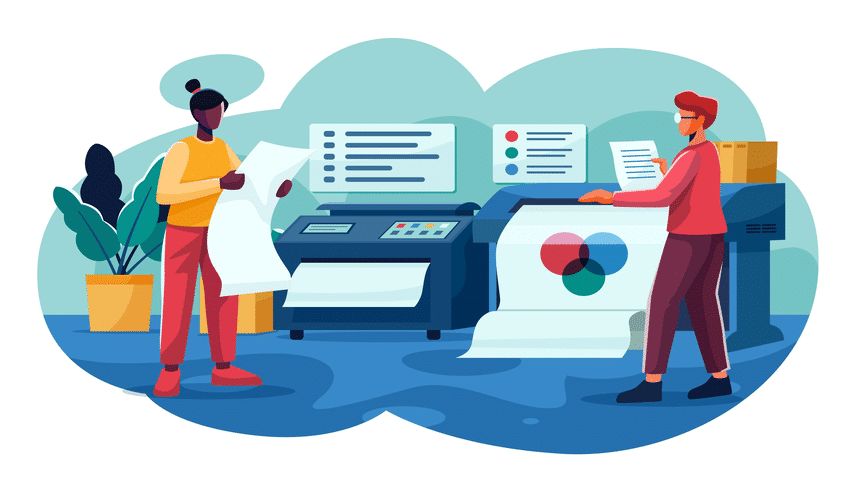 Print marketing's tactile aspect is among its most important benefits. Print marketing products have an enduring appeal due to their tactile aspect that digital media just cannot match. Your marketing materials will have a greater overall impact on your audience when they can touch, feel, and interact with them in a physical way. The following variables will affect the user's experience:
Material quality: Your marketing materials' use of high-quality paper, ink, and printing methods can have a big impact on how people perceive your brand.
Tangible proof of existence: Having physical marketing materials on hand can act as concrete evidence of your company's existence and stability in an online environment where online-only firms are becoming more prevalent. This helps bolster confidence in your products by assuring potential clients that your company is reliable and reputable.
Sensory experience: Holding a piece that has been skillfully designed and printed can arouse feelings of opulence and sophistication that will leave an enduring impression on your audience. Every element, from the ink's weight and finish to the paper's texture, creates a special sensory experience that sets your business apart from its competitors.
Longevity and sharing potential: Print materials have a longer shelf life and can be revisited, stored, or shown over time, in contrast to digital content, which can be easily lost or forgotten amid the constant barrage of online information. This raises the possibility that people may spread your message, whether orally or physically, so extending your reach and increasing your visibility.
Retention and recall: Research has found that reading printed materials increases memory retention and recall more than using digital sources, possibly due to the act of physically interacting with a tangible object. Your message is more likely to be remembered and acted upon in the future if you give your audience print marketing materials.
Also Read : Design Your Own Custom Invoice Books Online – Free
Cross-platform promotion:
Use your print materials to promote your digital channels and vice versa. For example, include your social media handles and website URL on your printed materials, and use digital channels to showcase print materials, such as brochures or event posters.
Incorporate QR codes or augmented reality elements into your print products to close the gap between the actual world and the digital one. This can increase traffic to your website, online store, or social media accounts while also giving your audience a distinctive and interesting experience.
Consistent branding, to create a seamless brand experience, keep your visual identity consistent throughout all of your print and digital marketing assets.
Utilise the advantages of both print and digital marketing to develop an integrated, omnichannel strategy that engages your audience across several platforms. No matter how your customers choose to interact with your business, this can assist enhance brand awareness, strengthening your messaging, and giving them a smooth experience.
Standing out in a digital world: 
The unique value of print marketing in a competitive landscape. As more and more businesses shift their focus to digital marketing, print marketing can help you stand out from the competition and make a memorable impression on your audience.
Differentiation: Investing in high-quality print materials can differentiate your brand from competitors who may rely solely on digital marketing. This unique approach can help your business capture the attention of potential customers who are inundated with digital content and crave a more tangible connection.
Nostalgia factor: Print marketing can evoke a sense of nostalgia in your audience, reminding them of a time when printed materials were more prevalent. This emotional connection can create a positive association with your brand and foster a sense of trust and loyalty.
Reinforcing your message: The lasting nature of print materials ensures that your message remains visible and accessible for an extended period. As your audience revisits your printed materials over time, your message is reinforced, increasing the likelihood of brand recall and customer engagement.
Supporting sustainability: By choosing eco-friendly printing methods and materials, such as recycled paper and soy-based inks, you can demonstrate your commitment to sustainability and environmental responsibility. 
Conclusion
While digital marketing plays a crucial role in today's business landscape, it is essential not to underestimate the power and relevance of print marketing for Irish small businesses. By combining the strengths of both digital and print channels, you can create a comprehensive and effective marketing strategy that captures the attention of your target audience and leaves a lasting impression. Embrace the unique advantages of print marketing and harness its potential to help your small business thrive in the competitive Irish market.
Suggested Reads:
12 Best Small Business Ideas Anyone Can Start in 2023